An economic resource for custom merchandise - our product line includes buttons, magnets, pocket mirrors, bottle openers and key chains.



About Cheapbuttons.com...


Formed in 2001 by Laura Kelly, Cheapbuttons.com was originally formed to cater to independent artists and local musicians. Now 16 years later, the company has expanded its product line to service its international customer base. What started with a single manual button press has grown to include an automated production line of several button sizes as well as a broad range of other products, including key chains, magnets, pocket mirrors and bottle openers.

Cheapbuttons.com continues to work with local musicians and artists but also assists with many local and national political campaigns, not-for-profit agencies, school election efforts, and private functions such as birthdays, weddings, anniversaries and other commemorative events.

There are a few factors that contribute to Cheapbuttons.com competitive pricing. The philosophy of the company has always been to offer a low-priced product to individuals and groups. We have low fixed business costs and Cheapbuttons.com is not our primary source of income. We maintain professional careers and orders are often processed in the evenings and weekends. Most importantly, we do not require high profits from these efforts.


We are community conscious and environmentally responsible. All of our supplies and equipment are purchased from US companies, many of them are small independent businesses. We print on recycled paper, reuse all packing materials and recycle all scrap that results from the production process. And the site is hosted by 100% wind power (how cool is that?!?!)

We have built relationships with our customers. There are many clients that we have been working with since inception and we continue to enjoy being a part of their important events throughout the years.


---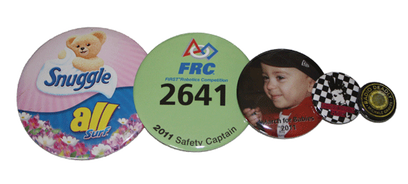 Offering five sizes of round buttons!
1 inch 1 1/4 inch 1 3/4 inch 2 1/4 inch 3 inch
We also have key chains, bottle openers, pocket mirrors, and magnets



---